Photonics Scotland are delighted to announce their partnership with OptoNet to bring our members the opportunity to attend OptoNet's International Summer School at a discounted rate! See below for the details: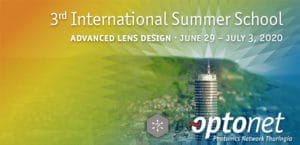 3rd OptoNet Summer School – Advanced Lens Design
When: June 29 – July 3
Where: Jena, Germany
ABOUT
The OptoNet Summer School is intended to provide high professional practical training. It aims at technicians, engineers and researchers who are involved in optical systems design of imaging systems and would like to have more theoretical insight and practical experience in that field. The Summer School is held by the internationally renowned expert Prof. Dr. Herbert Gross of Friedrich Schiller University Jena and his colleagues.
With a training schedule and a 3+2 concept we offer basic training for beginners as well as advanced topics for experienced Optics designers. Voluntary evening sessions are offered to further deepen your knowledge and practical skills.
An attractive discount is offered to members of Technology Scotland.
MAIN TOPICS
Basic training (Monday – Wednesday)
Key words: Introduction Optical Systems & ZEMAX, Aberrations, Optimization, Field flattening, Aspheres, Chromatical correction
Advanced training (Thursday – Friday)
Key words: Aberrations, Freeforms, Diffractive elements, Correction methods, Zoom lenses, Special system types, Microscopic systems, Tolerancing, Adjustment
VENUE
The Summer School will take place in Jena, the city of Ernst Abbe and Carl Zeiss who laid the foundation for modern optics 150 years ago. Since then the science city Jena has been shaped by innovative, light-based technologies.
Enjoy the summer spirit in the university town surrounded by a magnificent landscape and well-known sights of European history.
REGISTRATION
For registration, booking conditions and cancellation policy please go to our BOOKING SITE » 
Members of OptoNet partner clusters benefit from special rates – please get in touch with [email protected] to access your discount code.