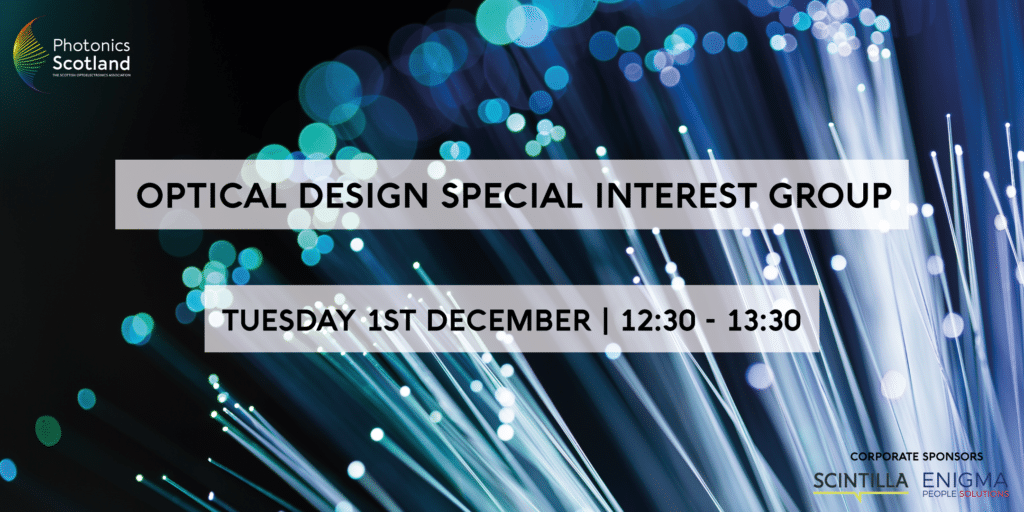 Where: Online
When: Tuesday 1st December 2020, 12:30 – 13:30
Background
Recent advancements in lasers, image sensors, compound semiconductors, and end user applications, coupled with growing demand for higher speed, higher power photonic devices present increasingly challenging demands on optical system design.
Faced with these increased performance requirements, optical designers must utilise new technologies, including improved software, powerful computing platforms, new optical materials and advanced coatings to improve overall optical and system performance.
With this in mind, Photonics Scotland created a Special Interest Group focused on optical design in Scotland, providing a series of workshops for engineers, scientists and designers to network, explore new collaboration opportunities, and stay up-to-date with advancements in this field.
The next meeting of the Optical Design Special Interest Group will take place online on Tuesday 1st December 2020.
About the meeting
At this event, attendees will hear from the organiser of the highly regarded OptoNet Summer School on Advanced Lens Design: how the summer school came to be in Jena; some background about the course; content and organisation of the workshop; target audience and benefits for Scottish organisations. Our second speaker will be a previous international participant of the summer school talking about his reasons for attending, the technological content and provide some feedback on the course from an SME industry perspective. There will also be a round-table discussion of skills gaps and potential training within the Scottish photonics sector and future potential workshops.
Speakers
Anke Mank – International Co-ordinator at OptoNet e.V.
Konstantin Gurgov – CTO at Engage Photonics
NOTE: Places within these meetings will be limited and priority will be given to Photonics Scotland members. If you are interested in becoming a member of Photonics Scotland then please get in touch below.
Photonics Scotland is keen to hear what you would like to see from future Special Interest Groups. If there is a topic you would like to see covered in future, please get in touch.
Contact: [email protected]